Breathe in… health at home
Why are domestic ventilation systems needed?
Because they improve overall health by avoiding inhalation of the harmful particles which exist within the home.

Because they provide our bodies with effective defence in the event of respiratory or allergy problems, by substantially improving the quality of the air we breathe at home. As confirmed by the health authorities.

Because they avoid the harm caused to homes and their inhabitants by condensation, humidity and fungal growth inside buildings.

Because since 2020 it has been mandatory to install mechanical ventilation systems in all newly built homes in the EU, and is recommended for homes built before this date.

In short, because we aim to address this increasingly pressing need on today's construction market: to promote healthy living and hygiene as added values in buildings. And so Emka is focused on improving humanity, with a commitment to well-being.
The Classphere range
If we must breathe to live, then breathing in a healthy environment has right now become an overriding need.

Microorganisms, bacteria, mites, damp, fungi… all threaten the healthiness of our homes.

In the pursuit of solutions to maintain a healthy living environment, we have devised and manufactured a number of cutting-edge mechanical ventilation systems which intelligently improve the quality of the air we consume: the Classphere range.
Our models: Emka has designed and manufactured four models with variants capable of fulfilling the ventilation needs of a wide range of homes and apartments:
Classphere 3 V + Classphere 3 H, suitable for the domestic ventilation of spaces between 200 and 400 square metres, depending on the distribution and the number of inhabitants.

Classphere 2 V + Classphere 2 H, suitable for the domestic ventilation of spaces of up to 200 square metres, depending on the distribution and the number of inhabitants.
How Classphere works
The Classphere cutting-edge mechanical ventilation system works by drawing air in from outside and passing it through a particle filter, before the clean air is then pumped into the chosen rooms. The stale air is extracted from these rooms, is filtered and undergoes an energy exchange with the incoming air, before being pumped out of the building.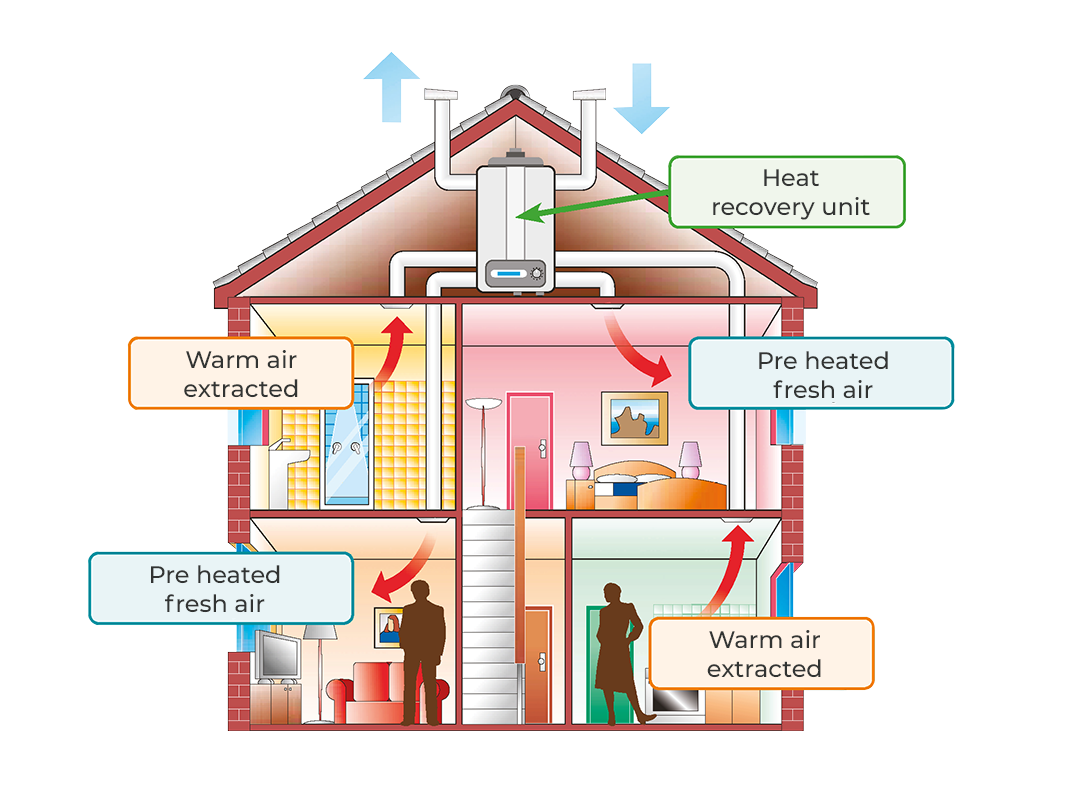 Our key allies: innovation, exclusivity, effectiveness
Innovation
The standard features of the devices in the Classphere range include measurement of the actual airflow, as well as CO2 and relative humidity. One new development in this regard is a regulation control which serves efficiently to maintain appropriate values. Another notable addition is our innovative procedure to measure the differential pressure between entrance and exit points.
Exclusivity
This unique, patented system allows Classphere to maintain the perfect balance between the impulsion and extraction circuits, avoiding any over- or under-pressure and saving considerable installation time.
Effectiveness
The heat transfer core is the key element of Classphere. This wheel-shaped exchanger delivers two significant benefits: a substantial reduction in the potential for indoor condensation, while also preventing any possibility of freezing, even at outdoor temperatures of minus 15° C.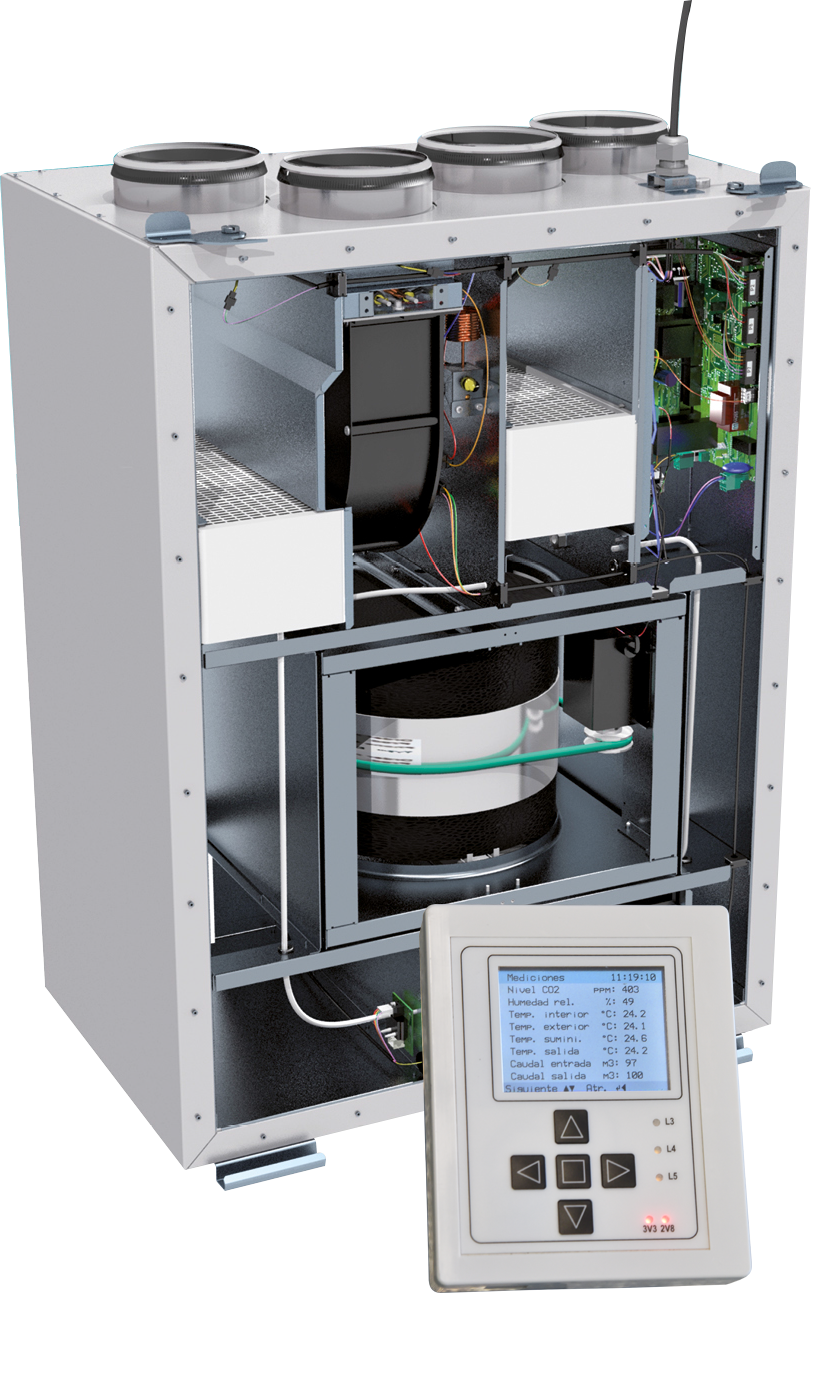 To which we should add another important aspect with a direct impact on the ease of operation of our devices, allowing precise adaptation to any circumstance: powerful electronics based on a micro-controller and remote control which can be used to display, control and monitor the system's variables, functions, sensors and alarms.
And so innovation, exclusivity and effectiveness all combine in Classphere to ensure quality air in the home, fully guaranteeing comprehensive health and well-being.
Our greatest guarantee: energy efficiency
The Classphere range reduces the cost of air conditioning homes in the summer, by reducing the temperature of the hot air outside, and bringing in fresh air at night in winter, likewise significantly reducing heating costs in winter by transferring energy from the hot air leaving the house to the cold air that enters.
Relative Humidity kept stable: If the humidity level in the home rises, Classphere will increase the airflow to eliminate the excess.
If you have a large party of guests at home, Classphere will respond by increasing the airflow until the levels of CO2 are brought back in line.
Just a few examples of how the Classphere range can efficiently help to boost air quality and make homes healthier. This is our greatest commitment, and our most prized achievement. Classphere in fact holds CE certification issued by the Central Electrotechnical Laboratory of Madrid Technical University. We comply with European regulations to improve humanity with a greater commitment to well-being.
Why choose us?
We transform home ventilation needs to enable a healthy environment.
Our Classphere is equipped to meter actual airflows, CO2 and Relative Humidity, allowing full versatility and adaptation to any circumstance with specific needs.
Simplicity is the key to installing, maintaining and using Classphere.
We fulfil the very highest quality standards.
We are deeply committed to the health and well-being of our homes.

In short, we deliver your future today, with a firm commitment to contributing towards a better world.