Innovation: delivering your future today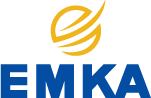 Emka boasts immense versatility in offering a full range of services in the fields of assembly, transport and logistics, technical and quality consultancy, and marketing. The cutting-edge Classphere range of mechanical ventilation systems is of particular importance in this last field.
Based on Japanese culture and production systems, Emka was founded in 2004 with the clear aim of breaking into the European technical consultancy, logistics and transport markets.
The cornerstones of our company are youthfulness and ambition, as the basis for realising our huge potential for growth.
Our management team has built up lengthy experience and dedication to the company ever since it was founded. The production staff, meanwhile, are made up of a young, skilled, dynamic and versatile team…
All of which are essential qualities in providing Emka with continuous evolution and modernisation right now.